(Before you read: Please don't go hard on me!this is my first topic on this subject and i am really nervous!

)

Hello, and welcome to Blossomhill Farm.
In this farm, we have many animals. We are expecting more animals too!
This farm is a breeding program, and it needs YOUR help. we can't usually pay for the treatment of our baby animals

that means you have to adopt our baby - young adult animals. Here is a short tour of BlossomHill farm. Enjoy!


<- click the images even ifthey don't show up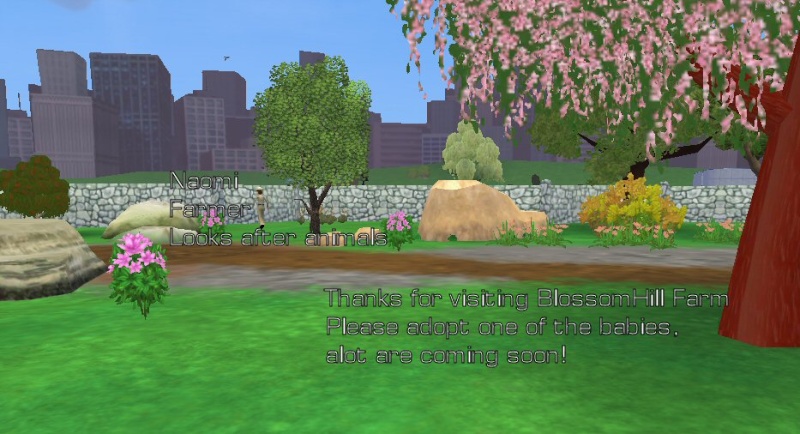 List of animals:

Horses
Daxel & Dinny
Tanya & Tido
Dougle & Denise
Eloise & Mac
Shrillie & Blackie = Mike
Tofu & Ferreroche

American Mustangs
Cadillac & Smudge
Tommy & Crystal

Goats
Treevo & Sonya = Steve, Kiddie

Cats
Patchy & Burnie = Taylor, Tiffany

Barbay Sheep
Gearge & Christy = Jojo

Bunnies
Barney & Becky = Rebecca, Tina

Adoptables:
Steve - Goat - Male - Young adult
Taylor - Cat - Female - Baby
Tiffany - Cat - Female - Baby
Jojo - Barbay Sheep - Male
Rebecca - Bunny - Female - Young adult
Tina - Bunny - Female - Young adult
Kiddie - Goat - Male - Newborn
Mike - Horse - Male - Newborn
Coco - American Mustang - Male - Newborn Adopted by GT (gold tiger)
Twinkle - Shetland Pony - Female - Newborn Adopted by josspot
Smokey - mangalarga marchador - Female - Newborn


Once baby animals are named, they go into the baby shelter, for intensive care. Then they either get adopted by you guys or they just grow into older adults and get put back where they came from.
__________________________
SORRY! WE ARE CLOSED. NOT RETURNING!
Last edited by OasisGirl on July 29th 2010, 15:57; edited 12 times in total (Reason for editing : closed)